Popular jobs
Jobs by state
Jobs by category

300 John Q Hammons Pkwy #900
Springfield, MO 65806-2550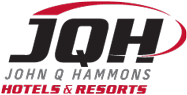 Employer Profile
Corporate Office profile
Profile
John Q. Hammons Hotels & Resorts is the largest private independent owner and hotel management company in the United States, with a portfolio that includes 78 hotels representing nearly 19,000 guest rooms in 24 states.
Founded on the extraordinary vision of John Q. Hammons, and built on his legacy of excellence spanning more than 50 years, we have become one of the most recognized and award-winning companies in the hotel industry. Today we maintain a long tradition of quality with a vibrant passion for the future. Our hotels continue to lead the industry, from our resort and spa locations to our large innovative meeting venues, dedicated to Mr. Hammons' commitment to delivering quality facilities and an excellence in guest experience.
With more than 9,000 exceptional associates nationwide and a management team second to none, we remain the nation's premier independent builder, developer, owner and manager of upscale, full-service hotels.
Built to be the Best, John Q. Hammons Hotels & Resorts continues to set the standard in hospitality management and hotel development.
Company
Since developing his first hotel in 1958, John Q. Hammons has been faithful to his vision of creating a unique and superior hotel environment with a level of service exceeding expectations.
Over the past 52 years, Hammons has been a true innovator and icon of the industry. His ambitious style of property development and hotel management has set new standards in the hospitality industry. In fact, many features in our hotels have now been adopted by franchisors as new brand standards, and we continue to set the bar for quality.
Today, John Q. Hammons Hotels Management, LLC upholds Mr. Hammons' long tradition of quality with a renewed passion. We're building upon his legacy of success and focusing on the future of the company.
The John Q. Hammons hotel portfolio is consistently awarded the highest honors in guest satisfaction and overall excellence. Our family of Embassy Suites Hotels has once again been recognized as the brand's finest. We continue to lead the industry in available meeting space, quality of appointments, and superior guest satisfaction scores. With extraordinary associates and an experienced professional management team, we remain the nation's premier independent developer, owner and manager of upscale, full-service hotels.
Leadership
Recognition
At John Q. Hammons Hotels & Resorts, we work hard to develop exceptional properties and provide outstanding service – and when our employees' efforts are recognized, we display their awards proudly.
Our company strives to reach higher standards than those required by our individual brands. Hotels are expected to be quality leaders in their markets, and associates consistently go above and beyond the scope of their titles. Because of their hard work and dedication, we are not surprised to see our employees and properties recognized by their respective brands, as well as the industry and individual communities.
The following are just a few of our recent accolades:
Embassy Suites Charlotte – Concord/Golf Resort & Spa is the recipient of the 2011 Cabarrus Sustainability Award for environmental achievements.
Renaissance Oklahoma City Convention Center, Hotel & Spa was the recent winner of the following prestigious awards for outstanding performance: Convention South's 2011 Class of Readers' Choice Awards, Smart Meetings' 2011 Platinum Choice Awards, 2011 CMUS Talk of the Town Award for Excellence in Customer Satisfaction
We currently manage 10 of the top 20 Embassy Suites Hotels.
Embassy Suites Omaha–La Vista / Hotel & Conference Center in Nebraska received the #1 rating and the coveted Connie Award (named for Hilton Hotels' founder Conrad Hilton)
Third-ranked Embassy Suites Norman–Hotel & Conference Center also received a Connie Award
Fourth-ranked Embassy Suites Murfreesboro – Hotel & Conference Center is featured in Embassy Suites Hotels' new brand marketing video and photo shoot
Lodging Hospitality has named 18 of our properties in the top 100 on their list of best-performing hotels.
John Q. Hammons received the Hilton Hotels Corporation: Hilton Family Lifetime Achievement in 2009.
John Q. Hammons received the Lodging Conference: Above & Beyond Award in 2009.
Sweeping the Embassy Suites awards in 2009, the company was recognized with 11 hotels in the top 20 of all Embassy Suites in the world, including 4 in the top 5.
Embassy Suites East Peoria – Hotel & RiverFront Conference Center was named the #1 ranking hotel within the brand receiving the Connie Award in 2008.
Embassy Suites Charlotte-Concord/Golf Resort & Spa received the Make a Difference Hotel of the Year Award in 2008 as special recognition from Embassy Suites Hotels.
John Q. Hammons received the prestigious Lifetime Achievement Award from the Americas Lodging Investment Summit (ALIS) in January 2007.
John Q. Hammons Hotels & Resorts received three 2006 Readers' Choice Awards from Convention South for displaying creativity and professionalism in the meeting and convention industry.
Legacy
In the 1950s, John Q. Hammons recognized a growing need for quality hotels throughout the country.
As a successful real estate investor and developer, Mr. Hammons had the experience and knowledge required to achieve his lofty ambitions. In 1958, he partnered with seasoned developer Roy Winegardner, and the two purchased ten Holiday Inn Hotel franchises. These properties were immediately successful and served as an early indicator of Mr. Hammons' future success in the industry.
The partners went on to found Winegardner and Hammons, Inc. and developed a total of 67 Holiday Inn Hotels. In 1969, Mr. Hammons formed an additional company, John Q. Hammons Hotels, Inc., and relied on his own strategies and acumen for site selection. The company's portfolio quickly grew to include Embassy Suites, Marriott, Sheraton and Radisson Hotels as well as several independently branded hotels and two first-class resorts. Mr. Hammons continued to focus on building and providing upscale accommodations, even in tough economic times when others found it necessary to cease new construction.
In 1994, Mr. Hammons took his company public and launched a new era of hotel development. Today, the company is once again privately owned, currently operating 78 hotels in 24 states.
Management Services
Guided by John Q. Hammons, an industry leader for the past 52 years, the experienced and dedicated staff of John Q. Hammons Hotels & Resorts are skilled at developing and managing upscale hotels and resorts.
From its inception, John Q. Hammons Hotels & Resorts has focused on providing a quality lodging experience above and beyond that of our competitors. This philosophy is echoed in all we do, from selecting the perfect site to training staff and managing assets.
We currently oversee 78 hotels in 24 states and are experiencing rapid growth with more planned in the near future.
Property Management
At John Q. Hammons Hotels & Resorts, our leadership has the experience and expertise needed for long-range planning of the company's growth as well as oversight of the day-to-day operations needed to meet or exceed brand standards and our guests' expectations, while ensuring the company's continued financial success.
The corporate team works with each property's management personnel to oversee food and beverage services, renovations and brand compliance, identify sales opportunities and manage the daily operations of each hotel to ensure consistent quality across the board, rewarding employee tenure and the fiscal health of each hotel.

Sales & Marketing:
We recognize that each hotel is most familiar with their own market and rely on their expertise when we develop new sales strategies. Our training programs and management guidance assist our hotel sales teams with their individual and team professional growth, personal success, tangible performance tracking and incentive rewards.
Food & Beverage:
Nearly all restaurants and catering services within our hotels operate under corporate guidance. We create custom menus tailored to each specific market and ensure a higher level of quality and consistency – far above what our brands require but what we know our customers would enjoy.
Human Resources:
Our associates take great pride in their hotels, and our corporate team assists in maintaining and rewarding this loyalty. Our training programs, benefit packages and beautiful surroundings create a safe, satisfying and rewarding work environment for all of our associates.
Operations:
John Q. Hammons Hotels & Resorts corporate offices are located in Springfield, Missouri. Including our five regional vice presidents, there are over 80 dedicated and experienced hospitality professionals working closely with each hotel in a company-wide collaboration to guarantee all departments are on pace to reach their operational and financial goals.
Design and Construction
Beginning as a small franchisee of Holiday Inn Hotels, our company has continuously grown through the development and operation of new properties and currently manage and maintain multiple product types including Embassy Suites, Renaissance Hotels, Homewood Suites, Residence Inn, Courtyard, Holiday Inn, Hampton Inn, Marriott, Hilton, Crowne Plaza, Ramada, Radisson, Sheraton, as well as, a number of non-branded hotels in 24 states.
John Q. Hammons Hotels & Resorts has maintained construction in times of economic hardship when other developers were forced to reduce or halt development. This perseverance has allowed us to become the first quality hotel in many markets and has also helped us maintain that status. Today with investments in remodeling, energy and sustainability initiatives in excess of $50 million annually, John Q. Hammons continues to strive to improve the position and performance of its many properties and maintains top hotels in many markets.
While John Q Hammons worked with communities to develop properties based on their needs and the economic climate, our associates brokered creative deals that benefit these individual communities as well as our company based on the instinct and unmatched guidance of our company's founder. Located largely in capital cities, college towns and near regional conference centers, the hotels continue to maintain steady bookings while enduring market competition from new product and changing demographics.
Over the course of his impressive 52-year career in the hotel business, Mr. John Q. Hammons has developed 210 hotels. He has focused on three simple rules since building his very first property:
1. Ensure the market is there
2. Pick the best site in the market
3. Design the facility to meet the market and location
Mr. Hammons planned each property to feature a stunning atrium, impeccable accommodations and expanded meeting space capable of holding large events and conferences. By strictly adhering to these development principles, John Q. Hammons Hotels & Resorts fostered the long-term success of each of its properties.
Meetings & Events
In addition to hotels, John Q. Hammons Hotels & Resorts also develops and manages numerous convention centers, golf courses, entertainment venues and spas.
Click on one of the following categories to learn more about our meeting and event properties.
Community
John Q. Hammons Hotels & Resorts has earned an impressive reputation for strengthening communities through a heartfelt commitment to giving back.
Seeing to the needs of others is an integral part of the hospitality way of life at John Q. Hammons Hotels & Resorts. Our more than 9,000 associates are able to effectively align with corporate social responsibility causes of the stellar brands within our 78-property hotel portfolio, such as Marriott's Feeding America and Children's Miracle Network initiatives and Embassy Suites Hotels' commitment to the Lance Armstrong Foundation.
The city of Springfield is an obvious benefactor of the significant impact that Mr. Hammons and his lovely wife Juanita Hammons make with their commitment to giving. Their millions of dollars in charitable contributions support local education, wellness, performing arts and sport initiatives enjoyed by thousands in the area.
This November, John Q. Hammons Hotels & Resorts corporate associates put together over 350 care packages filled with basic necessities which were generously donated by our vendors. Toothpaste, toothbrushes, soap, shampoo, conditioner, lotion, and the bags were donated by American Hotel Register and Guest Supply. Additionally, Royal-Paper Corporation donated toilet paper, tissues, feminine hygiene products, and hand sanitizer.
The packages were then given to two organizations:
Project Hope http://www.pjhope.org/, which serves individuals and families in Nicaragua.
Cross Lines of the Ozarks http://www.ccozarks.org/, which serves individuals and families in the Ozarks.
Careers
John Q. Hammons Hotels & Resorts offers careers in food and beverage management, rooms and revenue management, facilities engineering, human resources, sales, meeting setup and financial management. To view all open positions, please select the Property Level Associate or Professional Associate links on the right. You must submit your application for consideration of all John Q Hammons positions.
Property Level Associate positions include:
All hourly positions located at the property
Line Management positions
Sales
Professional Associate positions include:
Corporate positions – Accounting, Information Technology, Human Resources, Legal, Purchasing and Design,
Executive property level positions – Regional Vice President, Assistant / General Manager
John Q. Hammons Hotels Management, LLC, attracts the very best minds in the hospitality industry. We work hard to reward and retain all of our over 9,000 valuable associates by offering a highly competitive compensation package, group insurance, 401(K) plan and outstanding training, as well as a unique corporate culture that encourages and challenges employees at every level.
Through our Career Enhancement System, we look internally to fill upper-level positions long before we open the position to applicants from outside the company. Many of our management team members have worked their way through the company and the next generation of leadership is currently learning the ins and outs of the business from this exclusive program.