Popular jobs
Jobs by state
Jobs by category

900 W. Main Street
Charlottesville, VA 22903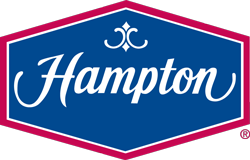 Jobs
No current jobs at Hampton Inn & Suites Charlottesville-At The University
Employer Profile
100 Room Hotel profile
At a Glance
Charlottesville hotel near University of Virginia.
Our Hampton Inn & Suites Charlottesville-At the University hotel sits just a short distance from the University of Virginia, which was founded in 1819 by Thomas Jefferson. This Charlottesville, VA hotel offers a free shuttle to the University of Virginia, the Albemarle Airport, and the UVA Medical Center.
The town was named for Sophia Charlotte of Mecklenburg-Strelitz, the wife of King George III, so history is evident at every turn. Stroll brick streets to discover the charming restaurants and shops in downtown Charlottesville, just five blocks away. Visit Monticello, four miles from our hotel. Find golf, historic sites, scenic drives and the Blue Ridge Parkway, all within a short distance of our hotel in Charlottesville. Appreciate history with a tour of Michie Tavern, dating back to 1784. Sample local wineries and shop at the Historic Downtown Mall, a pedestrian mall with a vibrant collection of stores and restaurants.
Experience the friendly atmosphere of our hotel in Charlottesville. Enjoy Hampton's free hot breakfast featuring a choice of tasty hot and cold items. If you're in a rush, simply grab one of our free Hampton On the Run® Breakfast Bags, available Monday through Friday, for a quick, healthy meal to go. Check emails with free WiFi in your room or catch up with work in the business center. After a long day, retreat to one of our 100 guest rooms and suites to rest in a clean and fresh Hampton bed®.
Discover Your "Hamptonality"
"One unstoppable brand with irresistible personality." That's Hamptonality, and it's who we are. At Hampton®, our mission is to satisfy every guest, every time. We made satisfaction a promise from the start with our unconditional, 100% Hampton Guarantee™ — the strongest satisfaction guarantee in the industry.
With more than 1,900 hotels around the world, Hampton Team Members are part of one big, happy family—and that's how we treat our guests, too. Our friendly, authentic, caring and thoughtful brand of service is called Hamptonality, and it's more than a word: It's who we are. Hamptonality is the way we connect with our guests and each other. It's the spring in our step and the sparkle in our eyes.
Guests at Hampton Inn, Hampton Inn & Suites and Hampton by Hilton get a lot more than our signature Hampton® amenities – like a clean and fresh bed, a free, hot breakfast, and high-speed Internet. Here at Hampton®, we know "it's our staff, not our stuff" that sets us apart. Our Team Members provide award-winning Hamptonality at a great price for every guest, every time.
If you know how to bring enthusiasm, engagement and effort to your work, join us here at Hampton®.