Popular jobs
Jobs by state
Jobs by category
8181 North Shadeland Avenue
Indianapolis, IN 46250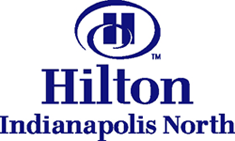 About This Employer
Managed by:
Employer Profile
221 room Hotel profile
Our Hotel
The Hilton Indianapolis North is an award winning, full service hotel situated on the north side of Indianapolis. The hotel was proudly awarded Hotel of the Year for 2008 and awarded top Guest Service Scores in 2010. We are conveniently located off I-69 I-465, situated on the campus of Community Hospital North & Indiana Heart Hospital. Also, within a 3 mile radius of the Castleton Square Mall (the largest mall in Indiana), Keystone Fashion Mall, Roche Diagnostics, Stanley Black & Decker and over 40 restaurants ranging from fast food to fine dining. We offer all the benefits of a downtown Indianapolis hotel in a serene suburban environment.
FEATURES AT THE HILTON INDIANAPOLIS NORTH HOTEL
17,000 sq. ft. of Meeting and Banquet Space, including 16 Meeting Rooms
221 Newly Renovated Guestrooms, including 8 Spectacular Suites
Prime central U.S. location for Meetings
Complimentary On-Site Parking
High-Speed Internet Access – wireless in all hotel guestrooms and public areas, wired and wireless access in all meeting rooms
The North Side Bar & Grill, our on-site restaurant featuring American Cuisine is open for Breakfast, Lunch and Dinner
24-Hour Fitness Center & Heated Indoor Swimming Pool
Full Service, In-House Conference Services Staff and Audio Visual Team
On-Site Bridal Expert
Complimentary Shuttle Service within a 5 mile radius of the hotel
The Hilton Indianapolis North hotel is only a short drive from the top Indianapolis destinations including:
Business travelers staying at our Indianapolis hotel can also look forward to the convenience of being placed near many area businesses and corporations. Some of these include:
Roche Diagnostics
Stanley Black & Decker
Community Health Network
Esaote North America
Eli Lilly and Elanco
Kroger
Raytheon
Our well appointed guestrooms at the Hilton Indianapolis North Hotel feature upscale amenities including PeterThomasRoth® bath amenities, two 2-line phones with voicemail, High-Speed Wireless Internet Access, large work desk with ergonomic chair and complimentary USA Today® each weekday morning.
The Hilton Indianapolis North hotel offers comfortable rooms and excellent hospitality with all the benefits of a downtown Indianapolis hotel in a serene suburban environment. So join us for your next stay - we look forward to welcoming you.
Hotel Accommodations
Guest Rooms
Hilton Indianapolis North offers newly renovated guestrooms. Conveniently located off I-69 and I-465, our hotel boasts spectacular guest rooms with One King or Two Double Beds, large work desk with lamp and ergonomic desk chair, wireless and wired high-speed internet access, two-line speaker phone, dataport, voicemail, self-controlled heating and a/c, hair dryer, iron and ironing board, coffee station, and private bath.

Our choices include:
Suites
All of our suites offer all the amenities of our standard guestrooms with a spacious floor layout. All of our suites are non-smoking.
7 of our suites offer an expanded guest rooms with a separate living room, which includes 27" color TV, couches, chairs, refrigerator and dining area for up to 4 guests. The guest accommodation offers either one King sized or two Double beds with a TV in the bedroom.
1 of our suites features king guestroom accommodations and a step down whirlpool tub in the bedroom, as well as a walk-in shower. The oversized parlor area has a living room seating area as well as a board table for up to 8 guests.
Accessible Rooms
We have 11 spacious accessible rooms, 3 of which feature roll in showers. Enjoy the same luxurious amenities and accommodations in our different types of accessible rooms.
Hotel Services & Amenities
For your business convenience
Audio/Visual Equipment Rental
Business Center
Business Phone Service
Complimentary Printing Service
Express Mail
Fax
Meeting Rooms
Office Rental
Photo Copying Service
Printer
Secretarial Service
Video Conferencing Available
Video Messaging
For your family's comfort and convenience
Children's Menu
Children's Video Rental
Cribs
High chairs
Playpen
For your comfort and convenience
Automated Teller (ATM)
Baggage Storage
Bar Area
Beverage Area, Complimentary
Elevators
Gift Shop
Laundry/Valet Service
Local Area Transportation
Lounge
Luggage Hold
Multi-Lingual Staff
On-Site Convenience Store
Room Service
Safety Deposit Box
Snack Shop
For your fitness and recreation convenience
Dining
Variety is the spice of life and the watchword when it comes to dining in the Castleton area of Indianapolis. Both the North Side Grill and Fireside Lounge offers a cozy and friendly atmosphere. Whether you want a relaxing meal or fun place to socialize with your family, friends or colleagues the Hilton's North Side Grill is the answer. Our passion is to provide a most satisfying and truly memorable dining experience. The marriage of food and wine creates 'personalities' that are expressed in each and every dish we serve. "We live to create and create to live!'
North Side Bar & Grill 

It's been a long day and you just want to relax and enjoy a good meal or have a cocktail in the lounge. At the Hilton Indianapolis North, you can enjoy casual dining - without even leaving the comfort of our hotel. Come to the North Side Grill's Restaurant & Lounge, where you'll discover the wide range of dining selections and outstanding service. The Lounge is fully stocked with great menu selections and flat screen TV's. In addition, our extensive in-room menu allows you to indulge in the North Side Grill's experience in the privacy of your guest room. Designed to satisfy a range of tastes, the convenient onsite dining options at this first-class Indianapolis area hotel include:

Breakfast 6:30am - 11:00am daily (Sunday's are extended until 1:00pm)

Lunch 11:00am - 2:00pm daily

Dinner 5:00pm - 11:00pm daily(Sunday through Thursday) and 5:00pm - 12am Friday & Saturday 

Breakfast Menu
Lunch Menu
Dinner Menu
Our Innovative and Interactive eMenu
North Side Bar & Grill is open for:
Breakfast
Lunch
Dinner

Attire: Casual
Room Service
Room Service is available.
Available from 6:30am - 11:30pm daily.
Retrieve a list of restaurants in the area.
Hotel Groups & Meetings
The Hilton Indianapolis North hotel is an ideal setting for training sessions, sales meetings, executive board retreats & other business/group events.
Meeting facilities to cater to all types of events - ideal for groups of 10 to 550
Castleton Ballroom, largest meeting space 4,341 sq ft
To view our Banquet Menus, click here.
Event resources at our hotel
Our complete Wedding Website has all the information you need to plan a perfect wedding! Learn more.
Manage your event guest room information online with Guest List Manager. Set up your group events, book multiple rooms, and download and print your reservations guest list.
A personalized group web page can be provided for your attendees to book their own hotel rooms and obtain information about the group online 24 hours a day, 7 days a week. Learn more.
Let us help you plan the ultimate event. We have many resources to make your event one to remember.
Why People Like to Work for Us
HEI Hotels & Resorts is a cohesive team creating a legacy as the leading private hospitality owner/operator driven to be recognized by our associates, guests and investors as continually setting a higher standard of excellence. With 28 hotels nationwide under well-known brand names such as Westin, Marriott, Sheraton and Hilton, we are lead by some of the most respected minds in the industry.

At HEI, we are committed to associate development. In order for us to be successful, we need to attract, train and retain the best associates in every market in which we operate hotels. We are dedicated to creating a culture of high energy, high performance, and high integrity with a real commitment to the people who embrace our vision and values. - Join HEI and grow your career with the fastest growing hotel owner/operator in the world.
A World of Opportunities for You
Great guest experiences begin with Team Members who feel appreciated, valued and respected. That's what you can expect at Hilton, where we have created a culture of excellence, continuous improvement, and innovation that helps Team Members reach their full potential.
We work hard to attract and select the right talent at the right time. Our goal is to hire people who share our passion for hospitality and want to further their careers while remaining committed to our Vision, Mission and Values.
Our Vision
To fill the earth with the light and warmth of hospitality.
Our Mission
We will be the preeminent global hospitality company and the first choice of guests, Team Members and owners alike.
Our Values
Hospitality

We're passionate about delivering exceptional guest experiences.

Integrity

We do the right thing, all the time.

Leadership

We're leaders in our industry and in our communities.

Teamwork

We're team players in everything we do.

Ownership

We're the owners of our actions and decisions.

Now

We operate with a sense of urgency and discipline.