Popular jobs
Jobs by state
Jobs by category

604 Green Bay Road
Kenilworth, IL 60043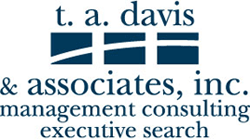 Jobs
No current jobs at T. A. Davis & Associates, Inc.
Employer Profile
Corporate Office profile
Company Description
T. A. Davis & Associates, Inc. is an executive search firm that has been offering professional services to clients in the hospitality industry since 1979. We handle searches for executive and mid-management positions in the hotel, resort, restaurant, club, and leisure industries throughout the country. With a staff of professionals we are able to effectively handle recruiting top talent for demanding positions in all the different functions of the hospitality business.

The process of finding the right candidate requires the right approach. T.A.Davis has used the following steps in finding the right fit for each clients needs: Listening; Identifying Candidates; Motivating Candidates; Screening; Checking References; Expediting Negotiating the Hire.

We offer professional service
We strengthen your management resources by identifying and attracting management and executive level candidates for you. These candidates may be unavailable through traditional company recruiting methods such as advertising or referrals.

You get service adapted to your needs
Our clients range from the largest international chains to single-unit hotels and restaurants. Our expertise also extends to such related industries as retail, real estate development and food service. While we do handle one-time projects, most clients find it advantageous to build a long-term relationship. Ongoing contact allows us to stay current with your organization and its corporate culture. We work closely with you to ensure that you receive quality service tailored to your needs.

You get expertise and an objective viewpoint
Our consultants have years of experience in operations and corporate staff functions in the hospitality industry. Our team draws on this experience to understand and help you pursue your organization's goals.
Why People Like to Work for Us
Our clients know we produce results.
Since 1979, our clients have trusted our ability to solve their unique problems.

Executive Placement

A hotel company contracted T. A. Davis & Associates to find a very special individual to fill the President's position. They outlined an extremely narrow profile. They had worked with ten search firms and had completed an exhaustive search of their own over a six month period without success. T. A. Davis & Associates successfully completed the search within forty-five days.

Consistent Service

A restaurant company had us conduct a search for a Corporate Controller. Two years later, that individual was promoted and we were called upon to find his replacement. We recruited a new Controller, and he became our twelfth successful placement with this company.

Quality Placements

A hotel company with whom we have placed over forty corporate and property level managers said, "All of the Resident Managers you have placed with us have gone on to become General Managers for us!" The compliment was accompanied by three more Resident Manager search assignments.
Company Statistics